2020 OC Marathon Ambassadors
Celerina Dugat, Elizabeth Forney, Kerry Vicencia, Natalia Winter, Ismail Amin, Donovan Querubin, Justin Dugat, Rebecca Sales, Nani Lauriano, Kristin Stehly, Jenny Bradley, Naader Reda, Tyler Meier, Nicole Castillo, Becca Brockmeyer, Kristen Webster, Briana Sharp, Almi Del Villar, Victor Hurtado, Lindsay Collins, Becky Bell, Caitlin Oishi, Moises Alvarez, Megan Huston
OC Marathon Ambassador Program
NO LONGER ACCEPTING APPLICATIONS FOR 2020. 
Please check back next year!
---
The SDCCU OC Marathon is looking for fun and passionate runners/walkers who are actively engaged in their community.
The OC Marathon believes everyone is capable of living a healthy lifestyle, and running/walking is a great avenue to health/fitness.
As an ambassador, you'll help us spread the word about The SDCCU OC Marathon and related events.
An OC Marathon Ambassador is a person who acts as a voluntary promoter of The OC Marathon events, The OC Marathon values, and active lifestyle. If you love running and you love The SDCCU OC Marathon, this program is perfect for you!
Accepted applicants will receive a FREE 2020 training shirt to kick things off!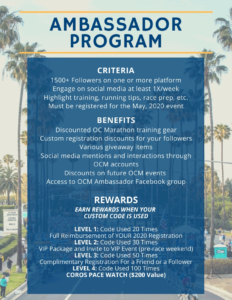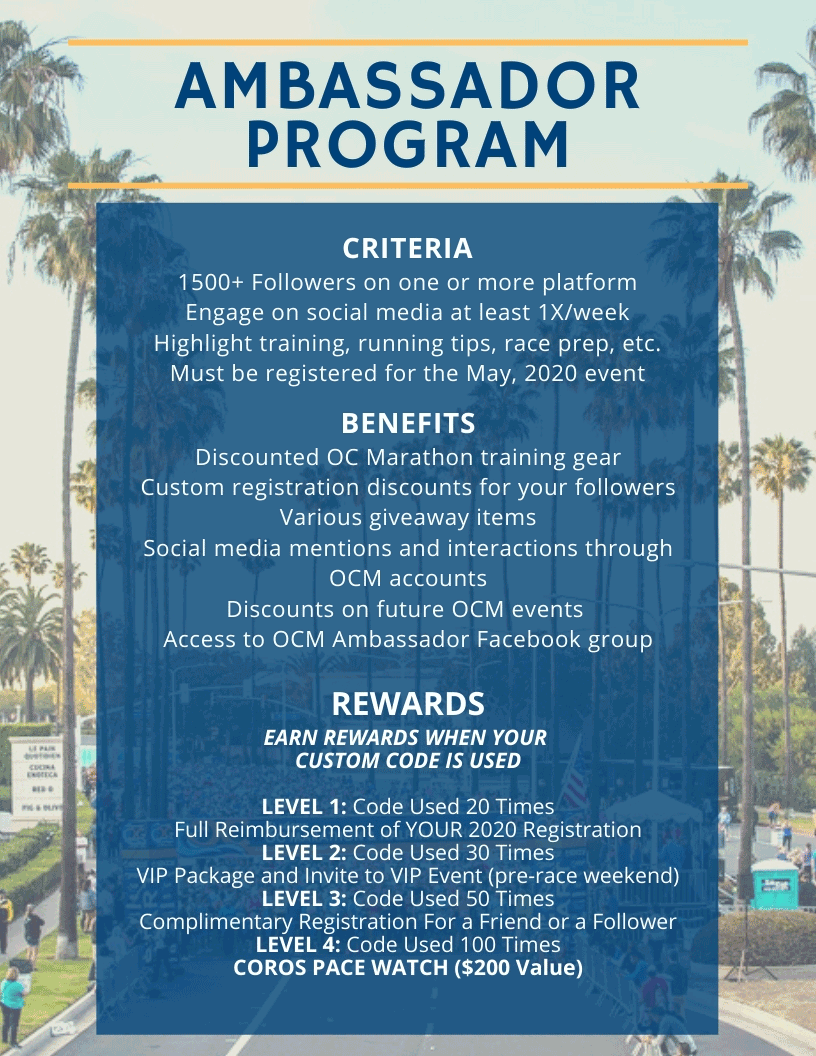 Ambassador Agreements
Ambassadors agree to be involved in the program from December 1, 2019 - May 15, 2020
Ambassadors may not be Ambassadors for more than two other races
Ambassador agrees to maintain a professional and PG social image while representing The OC Marathon
Ambassador agrees to not associate The OC Marathon with any political or personal views
Ambassador terms expire May 15, 2020 and are subject to change through the duration of the program
Questions?
Email morgan@ocmarathon.com
***Please note that we will not subsidize travel or training expenses, or issue payments of any kind to our ambassador team. The SDCCU OC Marathon reserves the right to approve or deny you as an ambassador for any reason or no reason at all. The SDCCU OC Marathon also reserves the right to terminate an ambassador at any time during the recruitment season for any or no reason at all.***