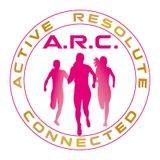 ARC Active Resolute Connected
We believe in running.
We believe in the strength of the women's running community.
Running not only empowers us, but has countless physical and mental benefits.
We want to bring more women to running and to support them on their running journey. ARC Active Resolute Connected is a registered 501(c)(3) non-profit with the mission of breaking barriers of race, ethnicity, culture, socioeconomic status and perceived ability to empower women through running.
How to run for Strides in Recovery
Click Register Now and use discount code ARC10 to get yourself registered for the event.  Choose your event and then choose your charity team "ARC Active Resolute Connected" under Team/Charity.  Don't forget to enter the discount code ARC10 to save 10% on your registration!  (Discount only valid if you choose to fundraise and raise money for your charity)
Make a donation to ARC during your registration. (Optional)  Any donations made at this point will go directly to the cause and be reflected on your fundraising page.
Finish and Pay for your registration.
Create your page!  Click yellow button to "Create Your Charity Page".  Create your login and password.  Once logged in you will be able to edit your picture and about me information.
Start training, and share your page and get additional donations to help ARC!