The SDCCU OC Marathon invites your company to be part of The SDCCU OC Marathon Running Festival taking place April 29 - May 1, 2022. Running is back in-person and we expect more than 20,000 will attend the 2022 event. Known for providing incredibly fun running experience for all ages and abilities, the SDCCU OC Marathon Running Festival provides an awesome community celebration, supports over 20 charities, and rewards the emotions of our participants, spectators and sponsors, all while inspiring kids and adults to fitness. From race organization and national prestige to state-of-the-art technology, our 2022 race weekend will truly be a world class event. Don't miss this opportunity to join our prestigious list of sponsors who are proud to be a part of this year's running of the SDCCU OC Marathon Running Festival.
Call 714-241-0142 ext. 2
Ask for Gary
Sponsorship Opportunities
The OC Marathon is a world class running event, with a positive reputation in the health and fitness events industry. Taking place annually in May, the OC Marathon boasts a beautiful coastal course, and almost always promises wonderful weather to run, socialize, and have fun.  Becoming a partner of the OC Marathon will enhance your brand by providing extensive visibility, strong community engagement, and promotion to an audience of 100,000+ nationwide. The OC Marathon audience ranges from advanced and elite runners to first time runners, avid fitness enthusiasts, dedicated fundraisers, volunteers, and fantastic spectators. The running festival is a family friendly event, inclusive of all ages.  On Friday there is a Kids Run program, and the whole weekend is family friendly with the goal of inspiring kids and adults to fitness. The OC Marathon draws a large crowd of coastal California runners, and it is also a favorite destination race for marathoners who love to travel. Each year we see runners come from all over the US, as well as multiple international athletes. 
Customizable sponsorship packages including exclusivity and naming rights range from  $5,000.00 - $100,000
Are you ready to get involved?
Please contact Gary at gary@ocmarathon.com or call 714-241-0142 ext. 2
Additional Partnership Opportunities
OUR 2022 TITLE SPONSOR IS SAN DIEGO COUNTY CREDIT UNION
THANK YOU COMMUNITY PARTNERS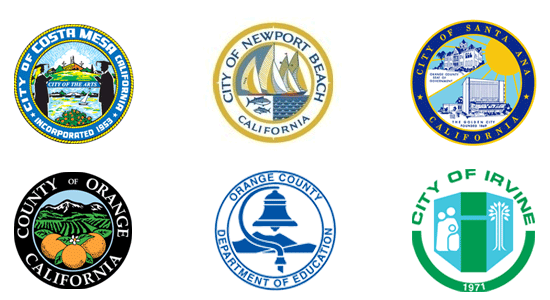 OVER $500,000 RAISED FOR CHARITY