Your Course Hydration
The OC Marathon is proud to partner with PEAK Hydrate in order to keep your body fueled on race day! We want you to hit your PEAK performance, so you'll be able to find PEAK Hydrate at miles 4, 6.5, 9, 11, 12, 14, 15.5, 18, 20, 22, and 24.
PEAK Hydrate is a healthy performance drink with fast-absorbing, body-friendly ionic minerals.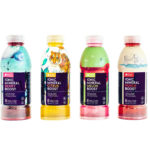 No carbs.
No sugar.
No calories.
No caffeine.
No artificial anything.
No negative vibes.
Are you PEAKing? Are you ready to PEAK? You don't have to wait until race day! PEAK Hydrate products come in various flavors, all designed to help you perform in every day life, from training to the office. You can shop the product on Amazon NOW!
To learn more about how PEAK Hydrate maximizes performance, provides natural energy, and boosts mental clarity: