Getting Involved
The OC Marathon is proud to partner with lululemon, and this year they want to help you train. Throughout the month of April lululemon will be hosting free training sessions at different locations throughout Orange County. There's only a few weeks left to get involved before race day, so don't miss your chance! For more details about events and locations, visit lululemon Orange County on Facebook.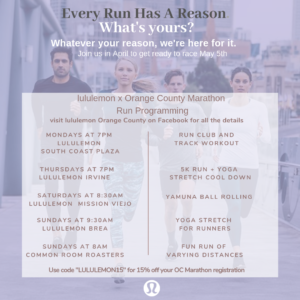 Race Weekend Events
Getting involved with lululemon doesn't stop in April. On Saturday, May 4th Anthony Chavez will be leading Yoga with lululemon. This hour long class will take place for runners in the Main Mall of the OC Fairgrounds. You don't want to miss this giant yoga class, unlike any other. There will be a DJ and good music to make it a fun experience for all. You can RSVP HERE
Don't forget, you'll also have opportunities to purchase lululemon gear at their product pop-ups throughout the expo.