Follow our 30+ ambassadors for running tips, training tips, marathon fun, discounts and more!
We're always looking to add new members to our ambassador team. If interested, apply here:
Elizabeth is a 2018 Winter Olympian and loves encouraging others to get involved in sports. She has helped others plan their athletic goals; she's a former graduate assistant track coach for Harvard Track and Field, a current USA Level II Weightlifting Coach, and was also a ski instructor for 7 years. She started running marathons and half marathons in 2018 and has since run 18 full marathons and about 20 half marathons. In addition to running, Elizabeth enjoys entertaining others as a stunt performer in films and television  and helping them laugh, as a stand-up comedian.
Sierra Marshall is a actor and stuntwoman in the entertainment industry. She is a leader and influencer in the community and aspires to inspire the people around her. Sierra started running in her home state of Pennsylvania and has now began to trek across Californian terrains. Sierra Marshall will also be running with fellow stunt woman and team mate, Elizabeth Sweany to help bring the stunt community into the world of long distance running.
The OC Half Marathon was my very first Half Marathon race, and my very first race ever was the OC fair 5K. There is just something special about the OC Races that keep me motivated and have helped me grow through the years. They have become a yearly tradition to look forward to.
I love to run because running is growth. Running challenges you and makes you realize you can push yourself to do things you never thought you could do. Running has not only made me a healthier human, but a happier one.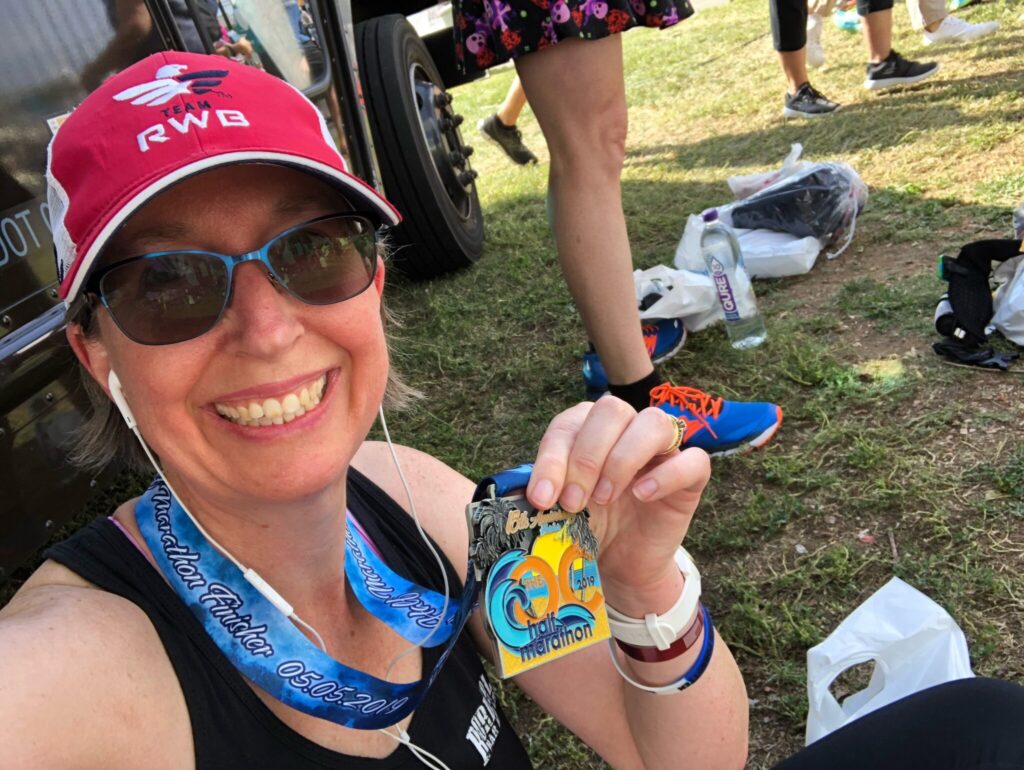 My name is Cheryl Vargo. I have been running for 6 years. I am part of two running clubs in Orange County, She Runs This Town (SRTT) and Team Red, White and Blue – OC. My very first marathon was the OC Marathon in 2018. This time around I will be running the half marathon. In 2020, I ran two virtual marathons and in the spring of 2021 I completed my first 50K two months before turning 50. My dad ran the very first LA and OC Marathons, and is still active today at 84. Running has helped me improve my mental health, mostly around controlling anxiety. I love the route, the race support, and the finish line celebration and looking forward to running the OC Half Marathon in November!
I was a late in life addict to running. Only 51 when  I completed my first half marathon.  In 2022 I recently completed half number 140!  Being an older runner I want everyone to know if you think you can you will.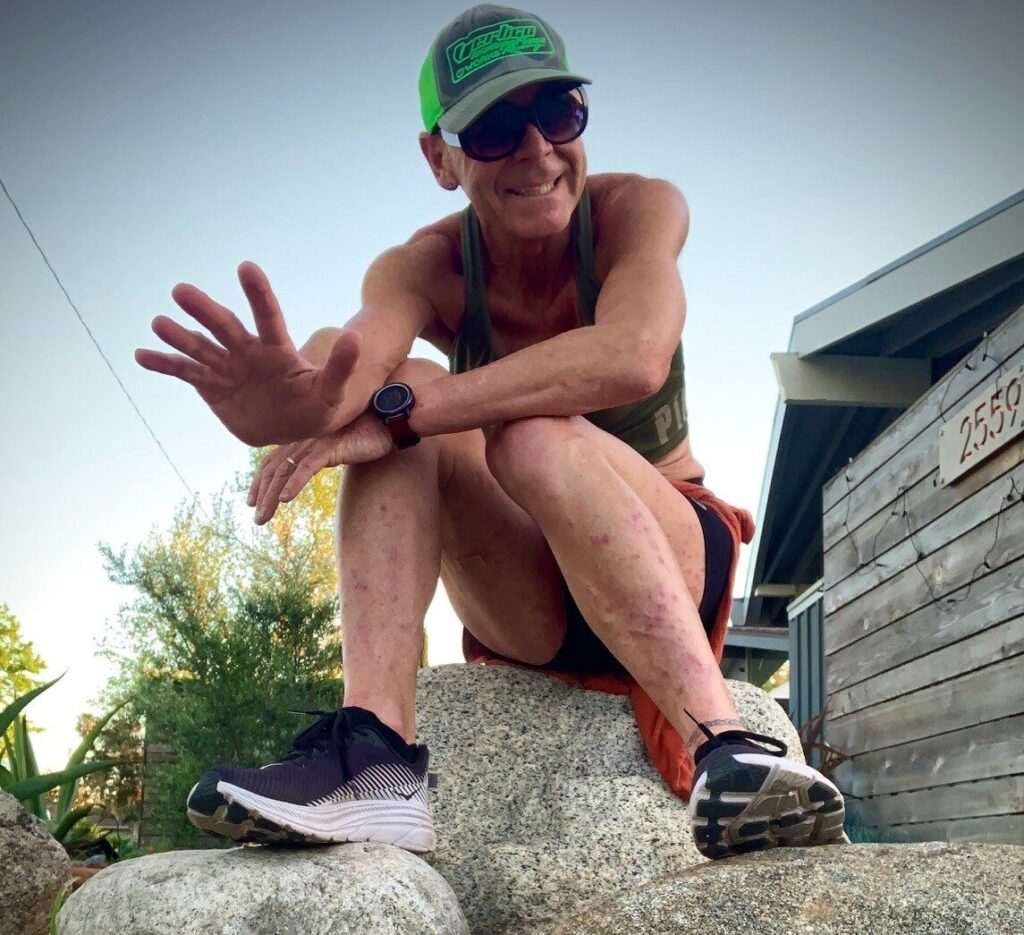 I run to break free, to explore inside my head, while exploring my community. I've been running for 8 years, and running allows me to uncover, and truly be myself.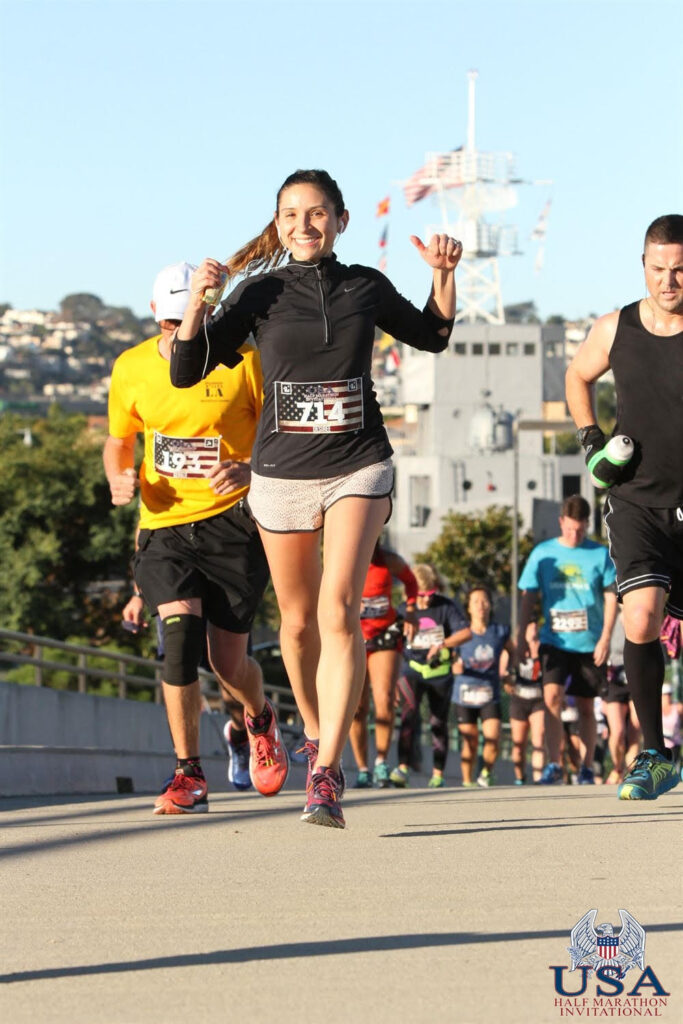 Hi everyone! My name is Desiree and I just recently started running as an adult.  Over the last 8 years running has been something that helps me to check out, relax, and de-stress while still pushing me to be better and meet my goals.
I started with 5Ks then gradually moved up in distance to 10ks and half marathons.  I've completed over 50 events including 26 half marathons and 1 marathon. My favorite distance so far has been half marathons but I do look forward to training for a few more marathons in the near future. I'm beyond thrilled to be an OC Ambassador this year. This will be my 4th year running this beautiful course. I looking forward to seeing you all there.  Make every run your personal best!
I'm Coach Ray Z, I have a passion for running and fitness. I have completed over 50 marathons, Blue belt in Jiu Jitsu,  USATF & Kettlebell Certified, Back to back marathons(twice), 3 marathons in 3 days(Lake Tahoe Triple)2019, Ran a marathon a month from Jan 2018 – March 2019, Stair climbed the US Bank Tower, the tallest stairwell west of the Mississippi. It's 1,664 steps, 75 stories in 2018 & 2019. Super excited to be an OC Marathon ambassador.
Check out Coach Ray Z's posdcast!
As someone who used to weigh 350 pounds and who is now an avid runner, Gizelle is now training to run her first marathon at the OC Marathon this May. She's a mom of 2 and works 2 jobs, but she still makes the time to run and to take care of her health. If she can do it, so can you! 

 I am 39 years old, an ER nurse and a mommy to a 4 year old girl. This is my legacy year and I love the OC Marathon because of its amazing views of the beach and the most delicious breakfast served at the VIP area after the race!
I love to run because it helps me stay physically, mentally and emotionally strong. I love sharing my passion for running and healthy living with everyone on my instagram page @julesdistancerunner. Hope to see you all at the finish line festival!
Hi, I'm Jenny, I'm originally from the SF Bay Area, and I've been running for about four years now! I picked it up very casually, until my sister shared an interest in running a half marathon together. Since then I've covered the distance of one 50k, 10 marathons and 21 half marathons, plus countless training miles! The running community has kept me running strong — first in LA and now in beautiful OC! I am always down for a run club night, and let's face it, at 38 years old and always training for something, they are my only chance at a thriving social life! As a resident of the OC for just over a year, I'm so excited to represent all this race encompasses, from the energy of the runners and community, the gorgeous course, the Beach Cities Challenge and beachside training miles!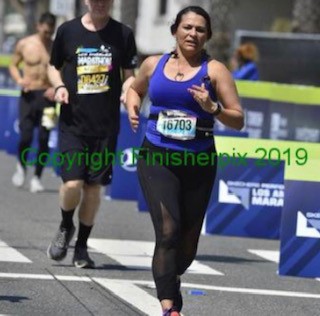 Hi fellow runners! I'm Ivette from Orange County, CA. I am a very active mom and wife that loves to run/bike/hike. I also work in the Human Resources industry so, as you can imagine, it can be challenging.. going for long runs helps me keep my sane. This will be my first time running with the OC Marathon. I am ecstatic to be an ambassador and representing this event for 2021. I have a passion for running, I have since 7th grade. I was part of the Cross Country team. I ran my first 5K in Santa Ana in 2015, then my first Half Marathon in Tustin 2017. That's when I fell in love with running all over again. My biggest accomplishment was running the LA Marathon in 2019. I enjoyed every mile. I am currently training for OC Half and Run Sip Santa Barbara Hal.  Busy months ahead, so you will see me out there training hard. See you at the start line on November 7, 2021!
My name is Desiree or Des for short! I'm 30 years old and I have been a runner for 6 going on 7 years now. I'm a mom of a 10 and 7 year old and they love to join in on my runs and they absolutely love running in kids runs. I'm a medal collector and love running to add more medals to my collection. I have been running OC Marathon for about 6 years and complete my Beach Cities runs every year to get that special Beach Cities Medals that I love so much. I got into running during a dark time in my life and one day I strapped on a pair of running shoes and never stopped running 
my goal is to spread positivity and love whether it be for fellow runners and/or outside the sport. In a world that has grown so dark and evil I believe there is still good in this world and in people and I will do my best to spread love and positivity wherever I go! I love helping others start their running careers and am ALWAYS willing to lend a helping hand and give advice to those that want it.
My name is Erin Sremaniak, I'm 32, and this is my first year as legacy and first year as an ambassador. I was a dancer until my 20s but was never athletic. I had done one half marathon before signing up for the beach cities challenge and had no idea what a PR was. When I achieved my first one at OC 2019, I knew I wanted to keep going and keep running. Here I am, 3 years later: healthier, faster, stronger, and 9 half marathons deep! I live in Costa Mesa and work in Newport Beach and OC is my home race- I can't wait to see everyone at the start line!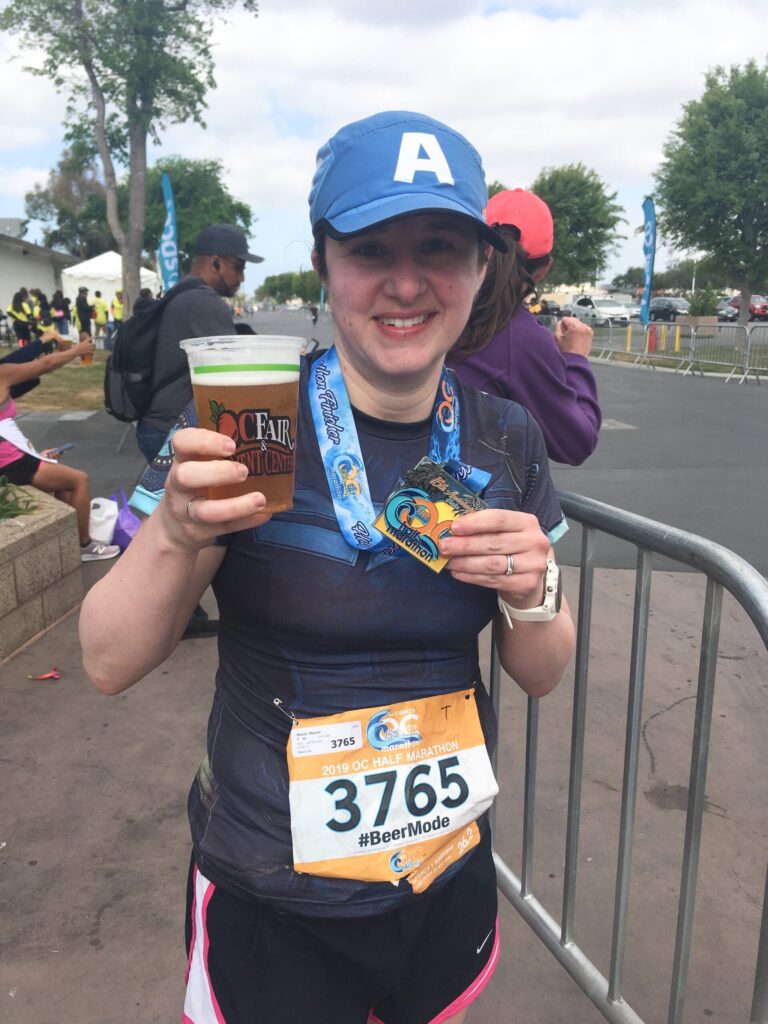 Sharon is in the healthcare industry and lives with her family in Orange County, CA.  She is an OC legacy runner and believes running and staying active is a big part of staying healthy, along with keeping up with routine check-ups and a healthy diet (and the occasional beer).  A melanoma survivor, Sharon is an advocate for early cancer screenings and has raised over $5,000 fundraising for melanoma non-profits as part of completing three races in the World Marathon Majors series – Berlin, New York, and Chicago.  The OC half marathon is her favorite race (there's no place like home), with a fun expo, an amazing course, an even more amazing finish line party, and events for the entire family!   Sharon can't wait to be an ambassador for the 2021 OC Marathon!
Hi everyone! My name is Donovan Querubin, and I'm excited to be one of the 2021 OC Marathon Ambassadors. I have two dogs named Gravy and Chashu. I founded a run club called Social Hour Run Club. We'll be doing some training for the OC Marathon, so come check us out. This will be my 3rd time running an OC Marathon race. This is such a great course, and I recommend it to my runners. I will be participating in an event called Run Across Haiti in May, where I'll be running 200+ miles in 8 days across the country of Haiti to show that it is not a place to be feared, and to help end poverty by providing dignified jobs to families out there.
Hello Runners! My name is Courtney Brady and I was born and raised in Orange County, California.  I am a mother to two boys (8 and 11), a wife and a lawyer.  I found my passion for running about five years ago when I challenged myself to run a 5k to see if I could accomplish it.  Since then I've run seven ultramarathons, two marathons, and lots of half marathons and 5ks! I love running for the time it gives me to process the stress of a busy working mom life and the movement I need to feel recharged. The OC Half Marathon is my absolute favorite road race because of the awesome course and people.  When I'm not training for that,  you can find me in our local mountains and trails or reading (or, more realistically, living that mom life) Happy Running!
Hi fellow runners! I'm Kristen from Orange County, CA. I am a mom and wife that loves to run. I also work in the financial industry so, as you can imagine, life gets pretty busy. I love the OC Marathon and I am ecstatic to be representing this event for 2021. I'll be racing the Half Marathon in May and I'm shooting for a sub 1:40. Long-term running goals include capturing that unicorn (looking for my first BQ!) and running a sub 21 min 5k. I love to run and have been injured enough to know that nothing is guaranteed. I never take a run for granted and I always run with a love for the sport.
Hi, my name is Nicole. I'm a mother to my cat, Morris. I'm born and raised in Southern California.  I've been running for about 8 years now. I ran my first race, a half marathon, in 2013, and I was hooked. I work the typical office job, but running and being active is a passion of mine. I'm a certified RRCA Certified Running Coach and yoga teacher. I'm a plant based runner and run the gamut of distances from the 5k to dabbling in the ultra world. I love running on both roads and trails, spectating races, hiking in the mountains, and traveling.
Briana is a management consultant and executive coach in Los Angeles. In her free time, she is an active yogi, runner and Orangetheory Fitness enthusiast. Briana got the running bug after being asked to join her friend at a half marathon in 2013… What was supposed to be "one and done" became a way of life and she will complete her 100th half marathon later this year. Briana has #RunTheOC 4 times and is excited to be back on course in 2021!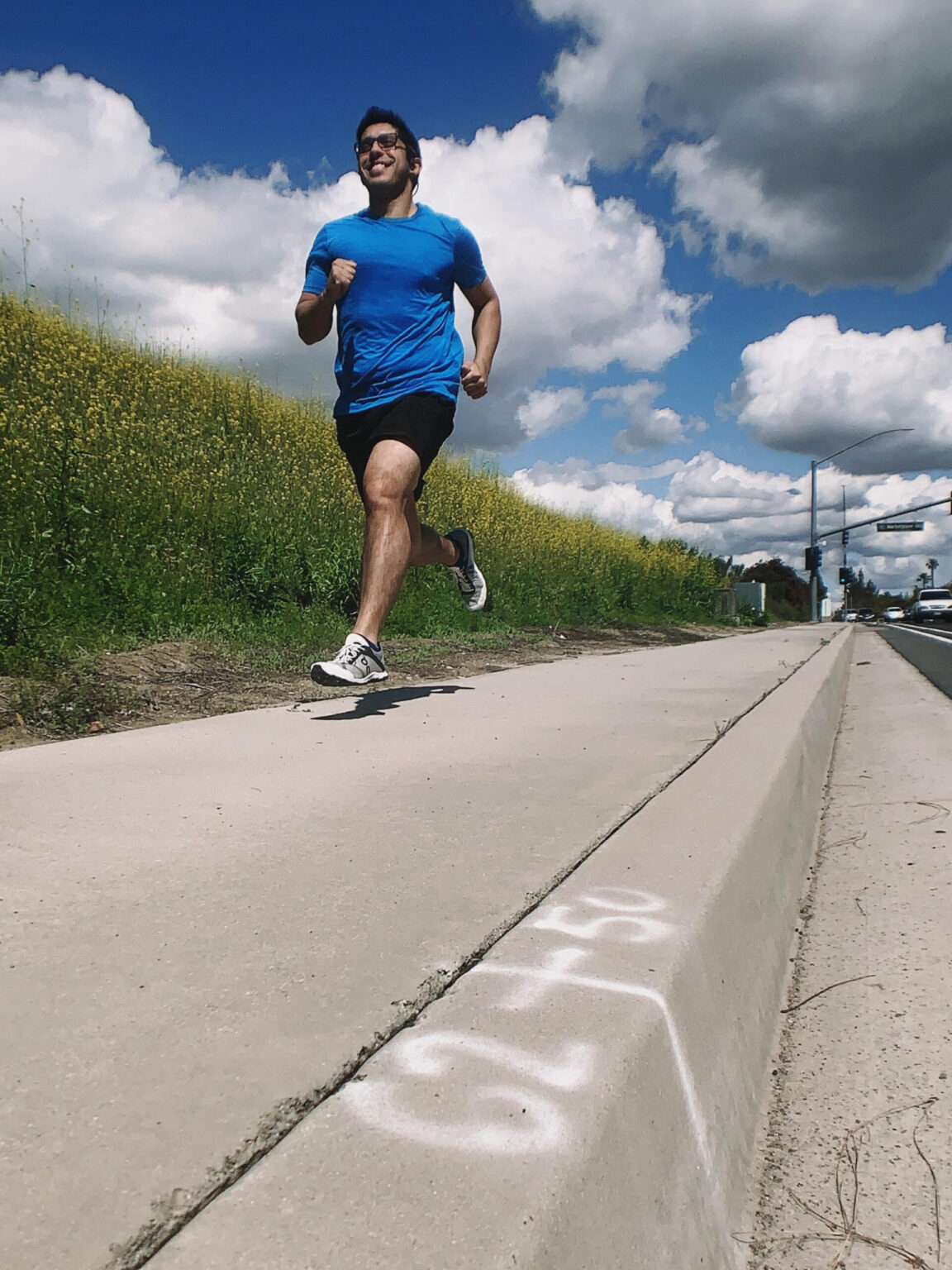 Hey guys!  I am David, a local Chiropractor of Tustin, CA.  I became an avid runner back in 2016 when I signed up for my first 10k and fell in love with the sport.  I enjoy being a part of the running community, listening to everyone's stories and backgrounds, and forming long lasting relationships.  I am driven to inspire anyone and everyone I can to find their passion in running in any shape or form.  Whether it is for their health, fitness, or just a life goal to accomplish.   I hope to see each and every one of you out there and feel free to say hello anytime!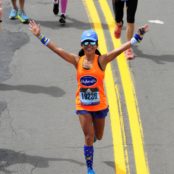 Almi is a Nurse Practitioner and an Ultramarathoner who is on a quest to run in all US 50 states and worldwide. She has completed 4 of the World Marathon Majors with just Tokyo and London Marathons left. Almi is also an official race pacer, an ambassador for ProCompression Socks, OC Marathon, San Francisco Marathon, & Honey Stinger, and part of Team Nuun Hydration and Team Hylands Powered. She is an OC legacy runner having done the 5K, half, and full marathon distances the last couple of years. She is looking forward being a 2021 OC Marathon Ambassador!
My running journey started with meeting my wife who is a lifelong lover of running. I completed my first half marathon 9 years ago and was hooked. Running is a great mental and physical challenge, not like any other with an emphasis on the mental. I have always been fit and athletic but running and training for marathons takes it to a whole other level. I enjoy so much the end result when you finally complete the race that you've been training for months for, it's a total rush! The OC marathon in particular is what brought my wife and I to move to Newport Beach. We've ran it for 5 years now. We fell in love with the race and Orange County, so much that we plan to continue to run this race for years to come!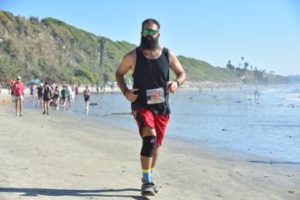 I've been a high school history teacher for 13 years and going strong. I was excused from PE in school due to foot problems, but perseverance and time in the gym helped me see that I could really do physical activities. I ran my first marathon in November 2016 and never looked back! Because I graduated from Buena Park High School, it's especially significant that I'm able to represent the communities that I called home when I was growing up. In my spare time, I enjoy participating in food challenges, reading about history, and making YouTube videos.
My name is Lindsay, I am a working mom who loves to run and be healthy. If I am not doing mom duties I am sneaking in a run or workout. My running goals for 2021 is Sub 2 hour Half marathon. My fitness goals is to hydrate more and eat less sugar. I try to include my Bradley's (hubby and son) in my active lifestyle, they go on hikes with me and ride their bikes while I chase them on foot!
Hi, my name is Nani Luculescu & I live in Los Alamitos. I love racing a variety of distances & am continuously pushing myself to hit bigger goals every year.  I'm currently heavy into training for my first full Ironman race next March and will toe the line in beautiful New Zealand. For me, running the 2018 New York Marathon was extra special because I raced and raised over $5000 for Global Lyme Alliance in memory of my dad who died of Lyme induced ALS, 7 years ago. I began running as a way for me to deal with the grief of losing him and now I race to honor him.
Hi I'm Becca, an ER nurse and Mom from Orange County. Began running backin high school, track team and cross country! Had a huge injury and broke my back last year, and big surgery in December. Cannot wait for a huge come back at the OC marathon. This is definitely one of the best races I have ever done. So excited for this year and am so excited to be an OC Marathon ambassador.
Hi! I'm Kerry from Orange County, CA. I'm a mom of two little ones (7 & 4), a college counselor and a spin instructor. I'm an avid fitness enthusiast and runner. I've run 12 half marathons and 3 full marathons with those numbers growing each year. I cannot wait to run my favorite half marathon again! I do the combo crush each year so I'll be there for the 5k as well. Can't wait to run with you all!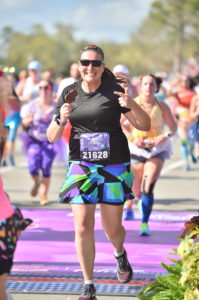 My name is Caitlin Oishi and I'm stoked to be repping the OC Marathon this year! I began running in high school on my track team, but it fell to the wayside over the years until I decided I wanted to get into better shape for my 30th birthday, when I ran my first Disneyland Half Marathon. From there I was hooked.  I live in Marina Del Rey and love doing my training runs along the beach path. During the week I work in reality television and on the weekends, chances are you'll probably find me at Disneyland. When not running or working, I enjoy spending time with my favorite running partners, my husband Derek and dog Finn (ok, he's mostly a cool down walker).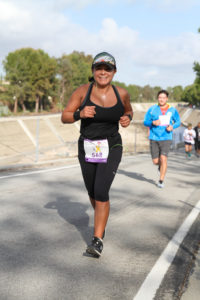 Natalia, believes in Service, Community and Values. As a seasoned marathon runner, marathon pacer and Kids Run The OC Marathon coach, she has dedicated countless hours to training children and promoting an active and healthy lifestyle. She is the founder of the OC Run Club on Facebook and has lead and organized many runs throughout Orange County. Natalia knows what it takes to get to the finish line and has done so numerous times as an official marathon pacer. She enjoys spending time with her husband and children, traveling around the world, photography, country music, helping people find their dream homes as a Realtor and going to Disneyland.  Natalia is delighted to return to the OC Marathon as a 2021 Ambassador.
Ismail practices as a business and intellectual property lawyer in OC, Las Vegas and Dallas. Ismail also serves on the Board of Directors for the USATF Foundation – which supports Olympic track athletes. In addition to practicing law, Ismail is a pilot and avid marathoner.  He is proud to have successfully completed all six of the World Marathon Majors, earning the Abbott Labs' Six Star Medal.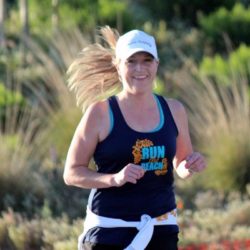 Megan grew up playing soccer through high school, but didn't start running seriously until after a cross-country move to Texas and later, Georgia. Leaving family and friends, she made the bold move to move her life to a different state to explore greater opportunities. After two soccer-related knee surgeries, running provided her both a way to explore her new home and stress relief. The stress relief grew into a passion and love for the sport. Megan has now completed nearly 90 half marathons and 8 full marathons with PRs of 1:50 and 4:19, respectively. Megan aims to encourage others to pursue their passions however scary they may be. She paces races a lot around Southern California, and enjoys encouraging and motivating others to push their own limits, whether for a PR or first-time half marathoner. OC is one of her favorite So Cal races and she hopes to see you out there in May!
My name is Victor Hurtado from Santa Maria, CA. I started running 6 years ago in order to lose a few pounds and be a bit more healthy. Little did I know I would lose 80 pounds and still be running. Went from having a goal of running a 1:30 half to running a 1:14 and also a goal of breaking 3 hrs for the marathon to running a 2:47. I love to run and be active. You can find me running the streets of Santa Maria on a daily basis. Follow me on Instagram as I try and reach some new goals in 2021at the OC Marathon.
My love for running has been strong since I was a young girl. I couldn't wait for track day in grade school P.E. class. I continued running all through my teen years and into my adulthood for exercise and simply for the love of running. All throughout my life during good times and bad, I have turned to running as a form of therapy and a treat to myself. In 2010, as a self challenge, I ran my first 1/2 marathon and never looked back. In 2015 my husband and I traveled from our home state of Texas to run our first OC 1/2 Marathon and fell in love with the OC so much we came back for "Runcations" to run the race for the next 4 years. One of my running goals has always been to be a race ambassador and I'm so honored to be chosen for the 2021 Ambassador team. I can't wait to see you on race day as I cross my 26th finish line! Have a fabulous day and remember to always be… Running on Rosé. Cheers!
Hi! My name is Liz! I'm a 28 year old marathoner. I've always grown up loving to run, but only in the last few years did I catch the marathon bug. The OC Marathon was the third marathon I ever did, and I'm hooked. I already love Newport more than anyplace in the world, so running a marathon there made it a thousand times better! When I'm not running (which is rare) I'm hanging with my husband and golden retriever! We love to stay active and take walks and hikes!
Currently, I'm out recovering from an unfortunate injury that has sidelined me for a bit, but I'm planning on coming back to the running game stronger than ever! And I'll absolutely be there to volunteer and cheer everyone on at the race this year!!!
Moises first took notice of the running scene in 2009, when his younger sibling trained for the LA marathon. Moises was fascinated by the idea of running such distance. With an overweight and sedentary lifestyle, the thought of running a marathon seemed out of reach. It wasn't till 2013, when Moises began to run and within months signed up for his first half marathon. Over the years Moises has participated in several marathons. His discovery of trail running gave him a new passion for running ultra's. Now you can find him running mountainside trails on any given time. He always remembers how difficult it is to start running and train for any distance, even if it's just recreational. He enjoys the satisfaction of helping out others train and reach their running goals.
Hi, I am a Figure skating pro with 30+ years of teaching in the OC, I currently coach at Ice Palace, I teach at Renaissance club sporty and I run the fitness progress in Laguna Woods! Can't wait to Run the OC!
Hi, I'm Gloria. I'm an organizer of a run group in Irvine called RunOC, where I'm fortunate to cross path with runners of all levels weekly. I'm also a RRCA Certified Run Coach. I consider myself an ordinary runner; my first run 5 years ago lasted for only 2 minutes. However, I'm deeply passionate for running as it is an indispensable part of my life. I believe that if I keep putting one foot in front of the other, fast or slow, – I will see myself at the finish line. 
"In a world full of fitness models, be an athlete." Let's inspire one another to be better, stronger, and healthier runners!
My name is Amy Furuyama and I am a proud OC Marathon Ambassador! As a social worker & mental health therapist, I am a huge proponent of practicing self care and running is one of my ultimate forms of self care! I've never regretted a run and running makes me a more balanced person because of all of its benefits. 
I hope you can race with me at the OC Marathon!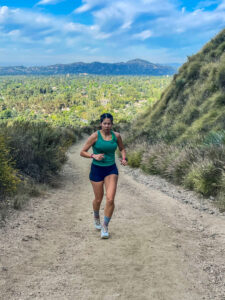 Hello Friends! I am Susie Lozick a High School Math Teacher and I discovered my love of Marathon running late in life in 2018 after being introduced to Half Marathons in 2016 by coworkers. In 2016 you couldn't pay me to run, but running has now become a staple in my life to help me relax, stay healthy physically and is my outlet to have a positive impact on my mental health. My favorite distances are marathons and 50Ks. I love to share my passion for running and leading a healthy life.
Having run my first race in 2006 and first marathon in 2009, when I look back on my running career the wins and the BQs are nice, but it's the friends I've made and the experiences I've had with them that make it all worth it.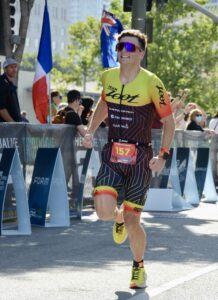 Kameron Hyden is a lifelong runner with a recent dive into the triathlon scene. He has deep roots in the running community and started racing 1k races from a very young age. This has become a perfect launch pad into the sport of triathlon, where Kameron has joined Team Zoot of Zoot Sports and boasts recent success in the California Triathlon series and a third-place finish at this year's USA Triathlon State Championships.
Kameron has short-term goals of qualifying for the Boston Marathon and becoming an All-American at the USAT Age-Group National Championships. With the long-term goal of becoming an Olympian.
I am a former, world-class basketball player turned coach and run leader in Southern California. I love building and connecting runners in my community by leading weekly group runs, social media engagement, and supporting runners through their training and racing journeys. I encourage and inspire others to run their own pace and be the best runner they can be. By traveling the world and doing what they love, which was basketball at the time. I've found my new passion in running and understand my purpose. Building relationships with all people and connecting with them has always been my secret super power!
Hi my name is Alex Montes, I am 28 years old and I absolutely love doing races. I've only started doing races for about a year now and I can surely say that it changed my life. From Spartan Races, Half Marathons, 70.3 Ironmans & Olympic Tris – there is no better feeling than pushing yourself farther than you thought possible! The OC Half Marathon was the 2nd half marathon I've ever done and it was such a great beautiful experience! I'm glad to be a part of this upcoming's 2023 race as a OC Marathon Ambassador! Follow my Instagram page, Montes04 & hopefully I inspire one of you to come out and push yourself this next year!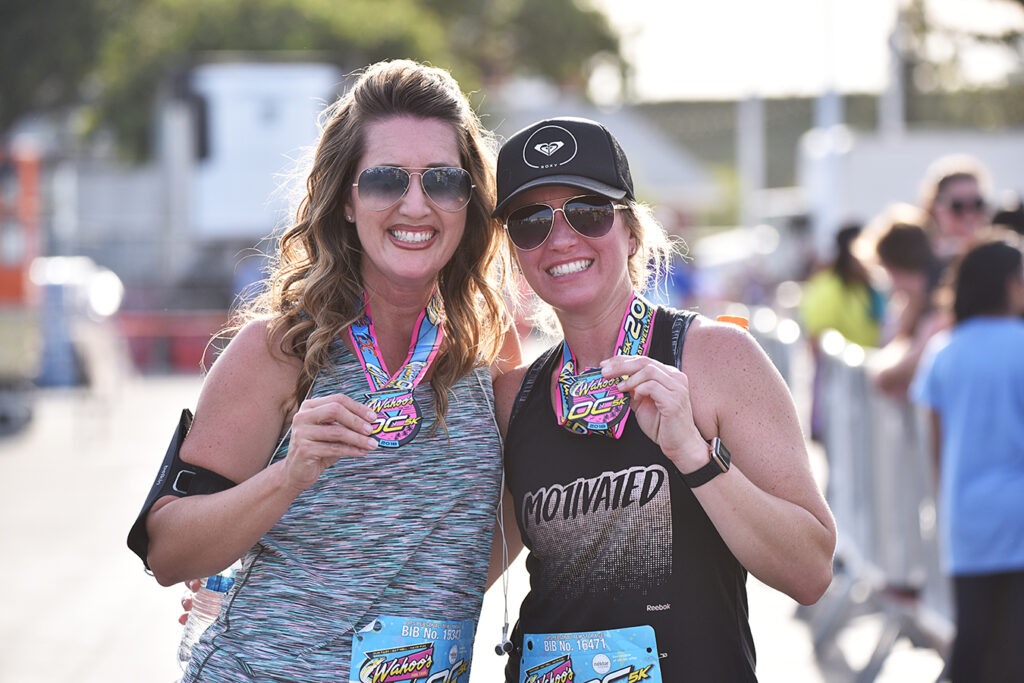 Every OC runner can be a part of the referral program. Refer your friends and earn up to $75 Cash Back and More!
You can earn an OC Marathon credit and more when you invite your friends to join you at the 2020 OC Running Festival. You will receive points each time someone uses your PERSONAL REFERRAL CODE or LINK to register.
Simply copy and paste your unique PERSONAL REFERRAL CODE or LINK into an email and forward to your friends and family. When they click on the link, a registration page will open and your referral link will already be populated in the referral box on the first page of registration.
You can keep track of your point totals by typing your name into the Data Field boxes. You can confirm your registration, your PERSONAL REFERRAL CODE and the number of REFERRAL POINTS.
Get 1 point for each 5K referral
Get 2 points for each Half Marathon referral
Get 3 points for each Full Marathon referral
Get 4 points for each Combo (5K / HALF) Crush referral
Get 5 points for each Combo (5K / FULL) Crush referral
Collect 10 points – get $25 credit
Collect 20 points – get $50 credit
Collect 30 points – get $75 credit
Collect 50 Points and become an ALL-STAR AMBASSADOR with a complimentary V.I.P. experience
Referrals can ONLY be credited to you when a registration is completed with your code.