THE PERFECT DISTANCE TO ENJOY THE POST-RACE PARTY
The 2023 RRCA National Half Marathon Championship
COURSE CERTIFICATION # CA14058RS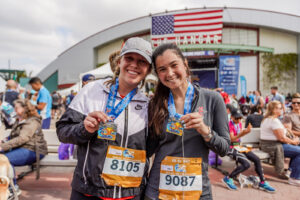 We are excited to announce that the 2023 Event has been chosen as the RRCA National Half Marathon Championship Event!
The Half Marathon Course will start in front of our Official Start Line Hotel, the Newport Beach Marriott Hotel & Spa just south of Santa Barbara Drive. You will run through the beautiful coastal communities of Newport Beach and Costa Mesa finishing off at the OC Fair and Event Center conveniently located just off the 55 freeway.
The OC Half Marathon course is net downhill in elevation from start to finish but does have two hills that you may think are significant.. The first 6.5 miles will be extremely fast with a elevation loss of over 200′ with only minor inclines. Mile 7.0 is the first significant hill on the course taking the runners from 15 feet to 75 feet. The course is then mostly flat through mile 10.5 with a downhill of 50′ followed by an uphill of 50′ at mile 11 and a flat and fast final stretch into the OC Fair & Event Center.
The first mile of the OC Half Marathon course includes a breathtaking panorama of the Pacific Ocean before winding through the seaside village of Corona del Mar including the spectacular Ocean Blvd. with cliffside views of Big Corona del Mar State Beach. It traverses down Bayside Drive, past the Newport Harbor Yacht Clubs and homes and boats of Newport Harbor. Exceptional views await runners at the bluffs overlooking the Upper Newport Bay Estuary Reserve as are the supportive cheers of neighborhood residents.

The half marathon course has a time limit of 3.5 hours (16-minute per mile pace). Runners still out on the course when officials determine it is time to reopen the roads may stay out on the course, as a pedestrian, as long as a sidewalk is available. They must obey all pedestrian traffic laws, stopping at red lights, using crosswalks/sidewalks, etc. Course support, including water stations, course signage, medical stations, etc. will close. Runners on the course after this time accept that they will be on their own and should plan accordingly, OR utilize the support vehicle to return to the finish line.