by Josellie Severino
In the summer of 2015, I had hit my all-time highest weight. I was nearly 170 lbs. and when running or playing with my then 6 year old daughter, I couldn't keep up. I knew I had bad knees but the weight wasn't helping. I went to get the MRI's in both knees… the result was cartilage fissures (cuts in the cartilage) and cartilage loss. This was good and bad news. No surgery was needed but there was also no real way to fix it. The doctor recommended physical therapy but I knew that was only fixing one of the problems. So I ended up hiring a personal trainer, Robert Diaz from Total Body Project. He was referred from a then co-worker, who had lost an amazing amount of weight. He reviewed my MRI results and we got to work, always taking special care and focus of the knees because I couldn't run and walking a mile took me about half an hour. Over the course, I lost a significant amount of weight, about 40 lbs., and have kept it off. During our time together, we focused on strengthening and weights and I did all my cardio on my own. Sometime about a year ago, during one of my walks, it turned into a jog, and I found myself RUNNING! I was so amazed that I actually started crying as I was running and realized I still needed to see, so got myself back together quickly. This was a huge breakthrough for me. As the running increased, it became part of me and by April, I was invited to a new challenge. One of my coworkers and I were talking about a 10K and he suggested to me about working towards a half marathon. I mentioned it to Robert and in days the excitement and the challenge was in the universe!!  I was going to run my first 10K on the 4th of July and signed up for the Long Beach Half for October 8th. There was a discount at the time if I signed up for both the Long Beach and Surf City Huntington Beach Half, so I did. I had heard and read about the Beach Cities Challenge medal and I WANTED ONE. This was crazy though, I thought to myself… I'm going to be 39, do my first half marathon and end up doing 3 before I turn 40?? It was nuts, but I was ready!!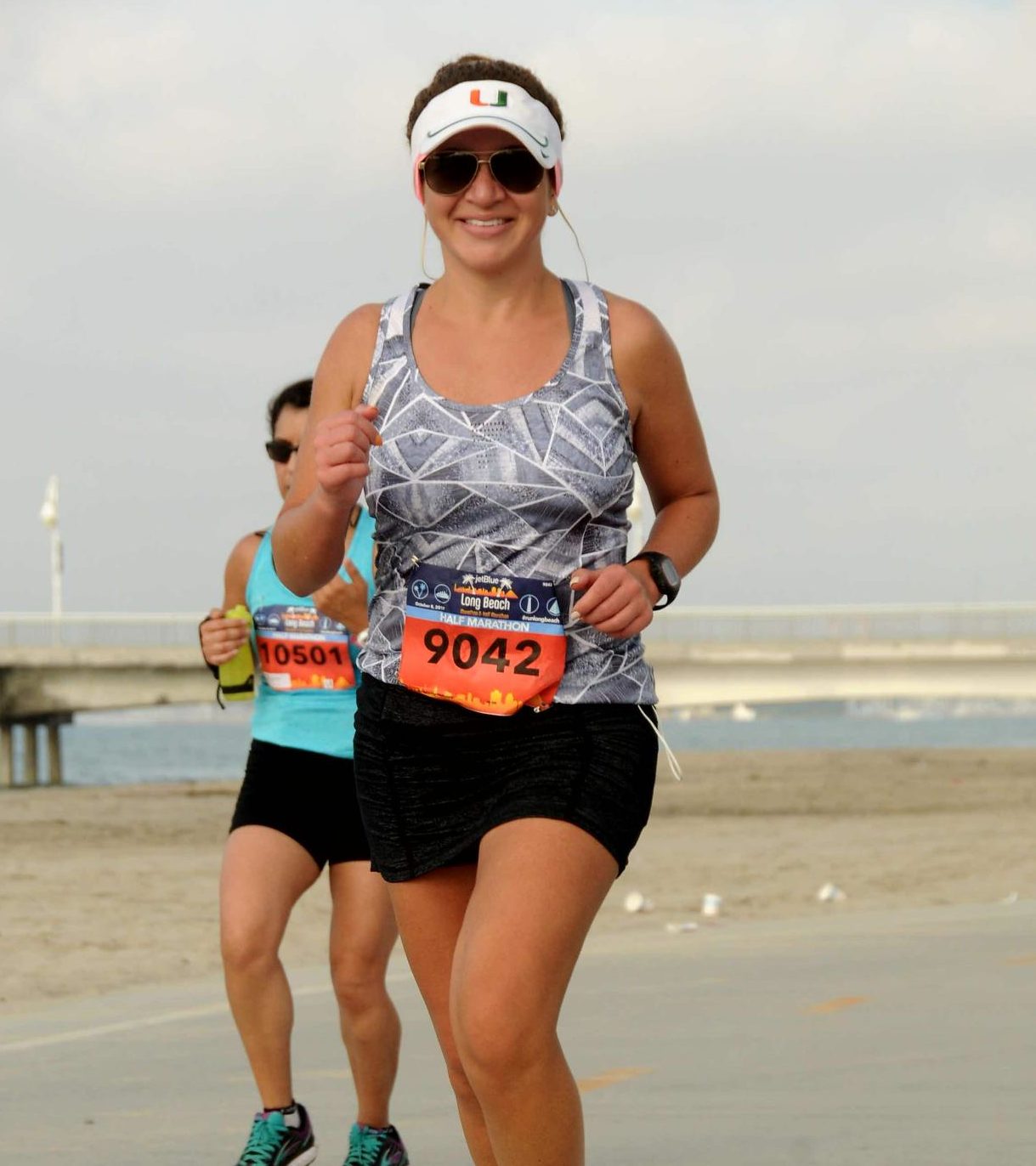 We worked to get me ready for the 10K in July and my goal was under 1 hour. I finished in 1:00:02.something. Basically 3 seconds over my goal. It was the fire under my belt. Every week I ran interval sprints on the treadmill and every weekend I was making a long run and adding a mile on each week. Every run was inspiring… I would think of where I was and how far I had come. I would think of the people who helped get me here and the life we have created for our family. I love to get out there and feel the fresh air, clear my head, and "disconnect" even though I have my tunes in my ear. When I run, I think about how I was told I couldn't, that I didn't have a runners body, and that it's going to be bad for me. These things give me just enough chip on my shoulder to push me through, to prove that it's hard work but it is possible. I also don't like "dieting" although I do eat fairly well, running also helps keep off the pounds!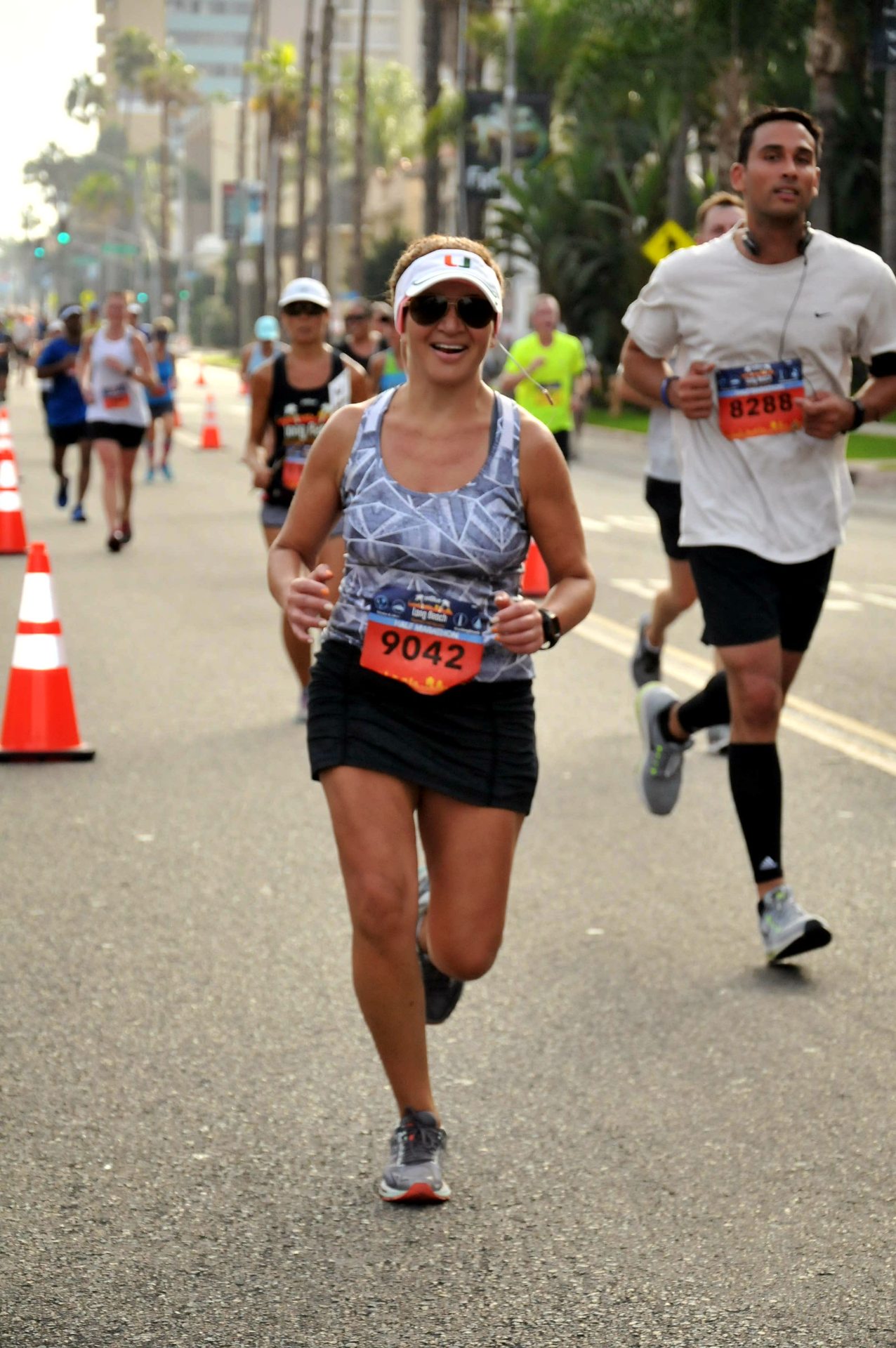 Throughout these 2 years, Robert has undoubtedly pushed me, challenged me, and guided me to a stronger and healthier me. My husband, Torey, has been my biggest supporter; helping me with parenting duties so that I can make my workouts and my weekend runs. On some Saturdays, he and my daughter will even join me at my workouts with Robert and we'll do family walks, hikes, and runs where I will run ahead and come back to meet them. He's been so wonderful in accepting my goals and pushing me too, and in the process, he got back into working out, eating healthier and living a positive lifestyle with me. He's also lost weight and has been rooting for me this entire time. My daughter, Milani, who's now 8 ½, is my biggest inspiration. She IS my hero!! Without her saying to me that day, "Mommy, why can't you run with me?", I'm not sure if it wouldn't hit me the same way. She's a gymnast and is in her first year of competitive gymnastics, Level 3. During the last 2 years of me training, it's sort of us been training together. She worked so hard to make the team and each day she trains, she reminds me that goals are everyday. They're not just once. They renew themselves each time and we must continue to challenge ourselves and push through.
I finished my first half at Long Beach at 2:12:37. I was super impressed considering there were some training setbacks and I was going into this run with an 8 mile trainer, the 2 week hiatus, and the 11 mile run that killed my IT band. I was tired and my family wasn't there. My daughter had a meet that day in Corona, so my husband was with her and my mother-in-law was with me. My trainer was also running (doing the combo bike/half). There were times I wanted to quit but I was reminded by the promise I had made with Milani… "divide and conquer". I couldn't let her down, she was "watching" and she was counting on me. The first 6, basically the 10K portion, I was doing amazing and was setting up for just over 2 hours with a pace about 9:30pm, taking it all in and enjoying the run. Then I hit a wall. Miles 7-9 down the beach were long and tiring… in the sun, and running into the wind. At mile 10 when we made the turn, back onto residential streets, I felt a resurgence and kicked it back up. Then came miles 11 and 12 and I was drooping again. As I approached the last mile, I tried to stick with it and just about 12.5, Robert was there. He joined me and ran with me through the finish line; he kept me going. I ran through that finish line with the biggest strides I could muster and I felt ACCOMPLISHED!! It was so intense and I was so happy it was over. I look back now and can't believe I did it!! I RAN A HALF MARATHON!! It was so exciting to take pictures, have my trainer there, meet some of their training team, find my mother-in-law, and call my husband. It was an incredible beginning to my new journey and an awesome birthday gift to myself. Huntington is next up and now I have a time to beat!!
My next big challenge coming up with the Surf City Huntington Beach run, as this is my 2nd in my Beach Cities Challenge.This May I began having pains in my stomach and in July I was diagnosed with a hernia and diastasis (muscle separation) in my stomach.  I was lucky enough to put the surgery off until after I completed Long Beach and just had the surgery 12 days ago. This has of course setback my ongoing training once again, but I like to challenge the doubters. Once given the okay from my doctor, I should have about 60 days to get back on track with my trainer in the gym and begin my running again to get ready for Surf City.  As you can see, throughout this journey, I've not only become a fan of my running, but a fanatic!!  And hopefully, it will make a smoother path as I work myself into the OC Half and complete the Beach Cities Challenge!!  All I keep thinking is how crazy to do this at this time in my life and to think it all started as a side conversation!!  The power of what you put out in the universe can be something amazing beautiful!!
By,
Josellie Severino