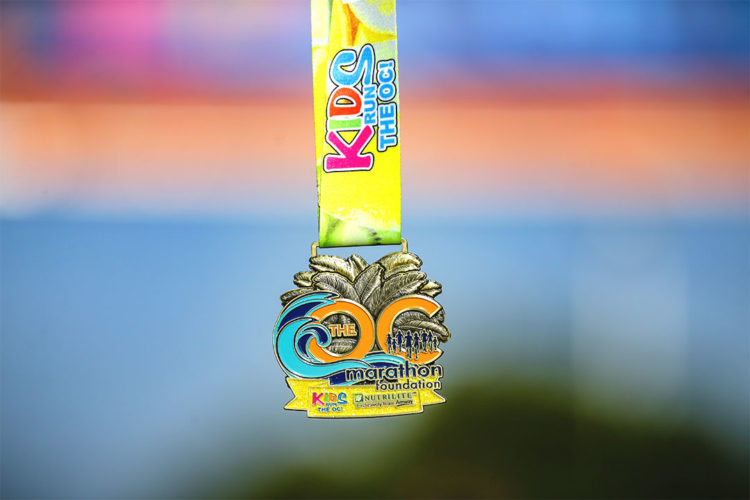 Not your local radio station, KROC "Inspires Kids to Fitness"
Eleven-year-old Nathan finishes his final mile sweating, determined and in a chute ready to be picked up by mom.
Children from 150 different elementary schools complete their final mile adding up to 26.2 miles from a 10 week program called Kids Run the OC.
Thousands of children, parents and coaches gather in designated areas for each school before the race. Coaches prepare children for the starting line. An Information booth lines up with parents doing last-minute bib pickup, registrations and getting answers to various questions from the OC Marathon Team.
Close to 9,500 kids come together to finish the last mile of the "marathon" at the OC Fair and Event Center as a part of the annual SDCCU OC Marathon Running Festival weekend, the first weekend in May.
The first two heats of the morning include children from all ages - children who typically have other activities later that day. The remaining heats are divided by age, which allows a safe running environment for the kids.
The OC Marathon team guides children to specific chute, indicated by a number on their bib, where they receive their "marathon" medal. Parents wait at the chute with a tag matching their child's bib. Volunteers and staff safely return each child to their parent with matching tags.
Kids receive a Kids Run the OC "marathon" medal and race t-shirt at the end of their final mile.
The lead up to the race includes coaches leading fun games and activities before, or after, school for 10 to 12 weeks. Each activity adds up to 25.2 miles before their final mile ran the first Saturday in May.
Activities are coupled with health challenges for children to learn healthy eating habits. Healthy eating lessons include challenges like, "add a new fruit to your lunch this week," or "be sure to include a new vegetable to your dinner."
Race Director, Gary Kutscher hopes to create healthy, lifelong habits in children participating in Kids Run the OC.
Eleven-year-old Nathan  finds his mom amidst the clamoring children and parents. He now dons the Kids Run the OC medal with his new race t-shirt as he satisfyingly sips on his cold Tru-Moo chocolate milk.