You will still be able to Run Virtually, anywhere in 2023!
Runners can sign up to run the race virtually by creating a new registration at the link below and have the 2023 swag shipped directly to your door. Swag will not be able to be shipped until after the May events.
Choose the OC 5K, Half Marathon, Full Marathon or the Combo Crush!
When does my OC Virtual Run take place? Runners can run the virtual run anytime and anywhere between now and May 31st , 2023! You must submit your results to receive your swag.
When will I receive my Virtual Package? Packages will not be shipped until after our event weekend. You should receive your package by the end of May.
We hope these virtual options have provided you with opportunities to challenge yourself and have fun!
2022 Swag Shipped Directly to Your Door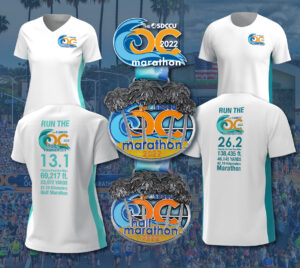 Virtual Leaderboard
Submit your results and view the leaderboard!
Run your race at anytime, and anywhere!
any time before May 31, 2023 and receive your medal and shirt in the mail by the end of May.
Pick your path
and get your miles in on your own time! Virtual races can be done around the neighborhood, a local course of your choosing, or even on the treadmill!
The only rule
is that the race must be completed in a single run (just like a real race). Track with any GPS device, or run a pre-mapped route!
Qualify
for challenges such as Beach Cities Challenge, or 3 year Legacy runner status
Submit your results!
Submit your results and print your finisher's certificate here!
REGISTER HERE
New runners register here.
Have Questions?
Send us an email info@ocmarathon.com